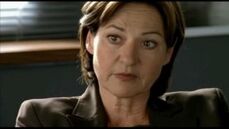 Anna is the historic leader of the command of Cobra 11. She is also recognized in some episodes as taking the squad name of "Cobra 1".
She was in the cast for 22 seasons, or just over 11 years. Anna's command with her subjects is always severe, but condescending. When it comes to doing something not allowed, Anna believes in her people and gives them an opportunity to discover things they otherwise wouldn't have been able to discover. Sometimes, she takes part in illegal actions to a settlement of a case. Given her position of power, she is sometimes kidnapped by the criminals to be used as bargaining chips. Finally, Anna can be very serious as very informal and friendly. In the first few seasons in which she appears, it was not uncommon to see her with a cigarette in her hand. She resigned after one case (ep. Betrayal) made from ​​her understanding that she can not trust her friends, nor even of her colleagues, and is replaced, a few episodes later, when Ben and Semir are the leaders themselves, by Kim Kruger.
Anna has driven multiple cars (mainly from Lexus); a BMW 750iL E38, an Opel Vectra B, a Lexus RX 300, a Skoda Octavia, a Lexus IS 300 Sportback, and a Lexus IS 350.