Frank Stolte, played by Johannes Brandupp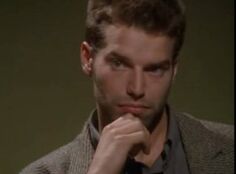 , is the first detective to appear in the series.
He was a member of the legendary GSG 9 (Grenzschutzgruppe 9, namely the anti-terrorist squad of the BKA federal police), but was transferred for insubordination. Initially, his colleague was Ingo Fischer and his boss was Katharina Lamprecht. From the third episode, because of the tragic death of Ingo, his new companion is a young colleague; Semir Gerkhan. Frank has an affair, that in the first three episodes is pull-and-spring, with the owner of the service area adjacent to the command of Cobra 11, we can still draw a general picture of his character.
Frank is very determined, but is very sensitive, as well as having the behaviour to be tad cold.
He leaves the series at the end of the first season. No one knows the cause but it seems that he has been afraid for several causes, one of which being that Ingo was killed (which almost crushed him).
Since then, he became involved with a military group, where he lost another close friend; following these events, he privately investigated a small contraband involving a mysterious figure responsib le for his death. With the help of Semir and his most recent partner, Paul Renner, he is able to close the investigation and is rescued after nearly getting blown off the edge of a dam.
Frank has driven an Audi 100 C3, a BMW 840i E31, and a BMW 325ts E36 as duty vehicles. He privately owned a Saab 99 before driving a Mercedes W124.