Ingo Fischer, played by Rainer Strecker, is a colleague of Frank Stolte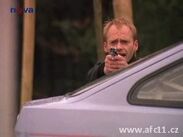 in the first two episodes of season one. Seeing his brief stay, you can not draw a picture of his character. It is understood however, that Ingo is very quiet. He also keeps feeling with his colleague; the two often joked around with each other and seemed to have known each other for five years. Ingo dies by a shotgun blast to the chest fired by Harry, a criminal at the head of a mafia organization, to make way for the historic Semir Gerkhan.
The only undercover car Ingo is seen to have driven was an old Ford Sierra.