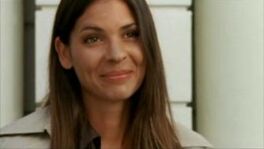 Kim, played by Katja Woywood, is the new head of the highway police after Anna Engelhardt resigned because of a case that has deeply moved her. She also was the new chief of Cobra 12.
Kim is very strict with his subordinates: she initially intends to bring the two agents Semir Gerkhan and Ben Jager and let them destroy fewer cars. Very soon, she realizes that this is impossible, however. Once the ice is broken, however, Kim proved as a good and understanding boss. On one occasion, Ben and Semir, having destroyed a car, still had a case and Kruger, against all odds, gave them the compliments (Die Braut/The Bride). It was also a famous moment when Kim, after Ben and Semir have solved a case for which they had risked their lives (Das Ende der Welt/The End of the World), throws a criminal to the ground not long after a couple of punches were well-settled by the two.
In the episode "Der Boss", she is told that her boyfriend had a colleague, who was even pregnant. But then he was killed during an operation and she had an abortion. From that moment on, she had not wanted to have kids. In the same episode, she has been personally involved in the investigation: she was suspected of having killed a man who was actually killed by his pistol. Obviously, however, Kim was innocent.
Kim has driven 4 police vehicles; a Mercedes B320 T245, a Mercedes GLK 350, a Mercedes SLK 200 and a Mercedes ML 350; since then she has stocked a BMW X3, but it is rarely (if ever) used.